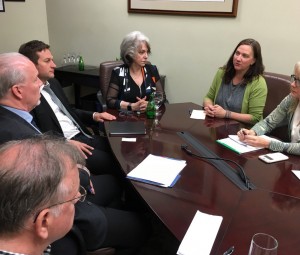 SURREY – New Democrat leader John Horgan visited Surrey today to call for secure, stable and adequate funding for public schools.
"Christy Clark has used Surrey kids as a backdrop for two political announcements in recent weeks. But unfortunately for those kids, those announcements are about politics, not about doing the right thing for our schools," said Horgan.
"Today, children in Surrey learn in schools that are overcrowded and underfunded. What those schools need is secure, stable and adequate funding. But instead, the Christy Clark government is offering up inadequate funding and a cancelled clawback and expecting applause."
Today, there are so many kids learning in portables in Surrey, they would comprise B.C.'s 24th largest school district – and Christy Clark's so-called solution to that overcrowding barely even covers the expected growth, meaning this government has no plans to reduce the number of children learning in portables. The Clark government also suggested new funding was on the way for school boards facing devastating shortfalls – but in reality they merely announced they would cancel the second half of their plan to claw back millions from school boards.
Horgan joined New Democrat Surrey MLAs Harry Bains, Sue Hammell and Bruce Ralston, as well as New Democrat education spokesperson Rob Fleming, in calling on the Christy Clark government to stop playing political games with our education system.
"Political stunts aren't going to fix the damage this government has done to public education in Surrey," said Horgan.
"Surrey is one of the fastest-growing school districts in the province, adding thousands of students every year. This is where B.C.'s future is growing up. Christy Clark needs to start thinking about these kids, not just her reelection campaign."