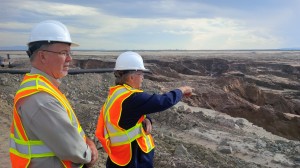 LIKELY— New Democrat leader John Horgan will visit Likely today following a visit to Williams Lake for the Williams Lake Stampede over the weekend. Horgan says the Christy Clark government has turned its back on British Columbians living in the Cariboo region.
"Today I'm meeting with people living in Likely who have seen serious damage to their livelihoods because of the Mount Polley disaster. Since the collapse of this tailings pond, Premier Christy Clark has shown again and again that she isn't there for Likely, just like she isn't there for people throughout this province," said Horgan.
"The mine has reopened and the people who work there are back at work – that's a good thing. But this disaster should never have happened, and the blow to the region's economy should never have happened.
"A report by the Auditor General, released earlier this year, showed that a 'decade of neglect' in government enforcement led to this disaster. People in this region need a government that will stand up for them, not more years of failure from a government that puts them last."
Horgan says a New Democrat government would put families and their interests back at the heart of the provincial government. Last weekend, Horgan announced that by the end of his first term as premier, he would increase the minimum wage to $15 per hour.
"Every year, the B.C. Liberals make it harder to pay the bills, with hikes to everything from MSP premiums to hydro rates. Too many people in British Columbia are working full time or more just to keep their heads above water. It's not good enough. We can, and we will, do better."