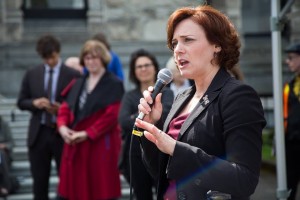 VICTORIA—Yesterday, the Christy Clark government made a cynical attempt to quiet opposition to their bus pass clawback, and ended up showing British Columbians just how clueless they really are, say B.C. New Democrats.
"People with disabilities in this province have been clear: they want an end to Christy Clark's bus pass clawback. It's mean, it's callous, and it needs to end today," said New Democrat social development spokesperson Michelle Mungall.
Yesterday, the B.C. Liberals announced that they would waive an administrative fee, but do nothing to change the $624 hike in bus pass fees for people with disabilities.
"Christy Clark is playing some kind of cruel joke. People with disabilities have been clear that the new $52 a month bus pass fee is the problem, not the annual $45 administration fee that they always paid," said Mungall. "She has completely missed the issue."
After the B.C. Liberals raised disability assistance rates for the first time in a decade, they eliminated nearly the entire boost by clawing back affordable bus passes. New Democrats have joined people across the province fighting for the end to the clawback.
"First the B.C. Liberals refused to listen, insisting that people with disabilities just don't know what's going on. Now, months later, this is all Christy Clark has to offer – another move that's all about pretending to do something while actually doing nothing," said Mungall.
"It's just another mean, callous decision by the Christy Clark government. This is the government that gave a tax break to the richest two per cent while clawing back bus passes from people with disabilities.
"Christy Clark has spent more than half a million dollars on flights in her private jet, but people with disabilities have to pay more for the bus. Now, instead of action, all the Christy Clark government has to offer is more spin."