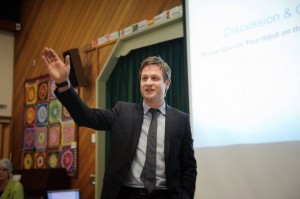 CHILLIWACK– Christy Clark's education minister used the number of portables in Chilliwack as an excuse for why he thinks it's okay government has failed to get 7,000 kids out of Surrey portables.
"Only the Christy Clark government would brag about the high number of portables in one city as an excuse for why they're failing to tackle the problem in another part of the province," said New Democrat education spokesperson Rob Fleming.
On Thursday, Education Minister Mike Bernier bragged, "There are actually more portables in Chilliwack on a per capita basis," than Surrey.
"The fact is, Christy Clark should be ashamed that there are over 1,000 students forced to learn in nearly 70 portables across Chilliwack, and should finally address the issue. Instead, they're using their own terrible record in Chilliwack as a way to defend themselves against mounting pressure in Surrey while John Horgan and the New Democrats say enough is enough," said Fleming.
"Is Christy Clark's education minister trying to make people in Chilliwack angrier at the Clark government's failure on education, or people in Surrey? Either way, they've helped highlight just how much they're failing students across the province."