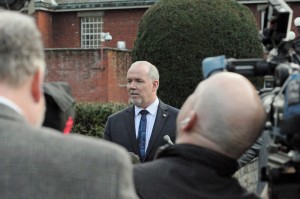 VANCOUVER— B.C. New Democrat leader, John Horgan, is calling for a multi-agency task force to fight tax fraud and money laundering in the B.C. real estate marketplace.
"Premier Christy Clark should have taken concrete action against illegal activity in our overheated real estate market months ago. She chose to do nothing, and that's not acceptable," said Horgan.
"The residential real estate industry involved more than $65 billion in transactions last year. The premier needs to do much more than just tinker around the edges of this problem in our real estate marketplace. The B.C. Liberals must embrace all of the recommendations of the independent advisory group and take real action to protect consumers and hard-working members of the real estate profession who follow the rules in our province.
"The province has responsibility for law enforcement, real estate, provincial taxes, securities and the administration of justice. For a relatively low cost an integrated team could investigate and prosecute tax fraud, money laundering, and make recommendations on strengthening our tools for detecting and prosecuting bad apples in the B.C. real estate sector.
"Answers to the housing affordability crisis won't come without hard action, and this task force is just one part of the action we need to take. I want a tax on speculators who run up the price of housing, and I want that money to go into a housing affordability fund. I want to close the loopholes in B.C.'s property transfer tax, and I want action against renovictions to protect renters.
"These are all measures Premier Christy Clark refuses to take, and that's not good enough for the people of B.C. We need action on affordability and Christy Clark is afraid to lead."