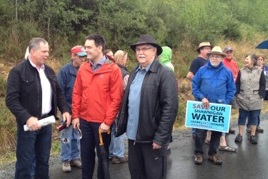 VICTORIA— Cowichan Valley MLA Bill Routley joined with Nanaimo-North Cowichan MLA Doug Routley and other elected representatives at South Island Aggregates' contaminated soil dumping site near Shawnigan Lake to voice continuing concerns about the threat it poses to the local water supply.
"Residents have a right to be concerned about their water after not just one but two recent reports that show that the Christy Clark government is failing to put the public interest first," said Bill Routley.
"The Information and Privacy Commissioner's report showed that the Christy Clark government was needlessly withholding government documents about the safety of water in Spallumcheen, while the Auditor General's report found major gaps in the Christy Clark government's monitoring of industrial sites and enforcement of environmental laws."
Doug Routley noted that New Democrats have raised questions and concerns about the soil dumping site more than a dozen times in the legislature, and will continue to fight for the community to have safe drinking water.
"The Christy Clark government has proven that they simply can't be trusted to protect the interests of communities and the environment," said Doug Routley. "They imposed a contaminated soil dumping site on the community, despite serious concerns about threats to the local drinking water supply. It's wrong and it shouldn't be allowed to continue."
B.C. New Democrats will continue to fight for the protection of drinking water in Shawnigan Lake and across the province.