VANCOUVER – Christy Clark's B.C. Liberal government has made ferries unaffordable for coastal British Columbians, said New Democrat spokesperson on ferries Claire Trevena.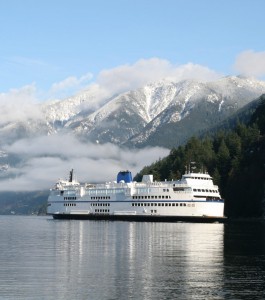 "British Columbians are being squeezed by the Christy Clark government every which way they turn. The B.C. Ferries annual report shows that a decade of fare hikes and mismanagement has left coastal residents footing the bill to keep our province's ferry system afloat," said Trevena.
Trevena is attending the B.C. Ferries Annual General Meeting in Vancouver where the company's annual report was formally tabled.
"It was quite incredible to listen to the head of B.C. Ferries stand up and say in his speech that fare affordability is important, considering the devastating fare hikes British Columbians have faced in the last decade under this government," said Trevena.
"The B.C. Liberals are sending British Columbians a bigger bill for the vital services they rely on. It's not just ferries: people are facing huge hikes to hydro rates, hikes to ICBC rates, hikes to medical services premiums, and rising tuition fees and childcare costs under Premier Christy Clark. At the same time, rents and home prices are spiraling out of control."
Trevena said that over the last decade, the B.C. Liberals drove up fares repeatedly, making ferries less accessible to the people who need them. The B.C. Ferries annual report shows that ferry users are footing the entire bill for the operations and maintenance of our ferries through their fares, which shows the government is not treating our ferries as the marine highways that they are.
"Ferries are an essential transportation corridor for people who live on the coast. Christy Clark doesn't get it. She's more concerned about her friends and fundraisers than she is about affordability for the people of B.C."