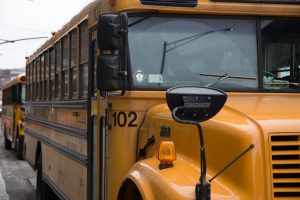 SURREY – No student should spend 13 years learning in portables, said New Democrat leader John Horgan.
"Next week, students in Surrey will start another year of school. Christy Clark seems to think it's acceptable that some of those kids will spend their entire education learning in one portable after another," said Horgan.
"I disagree. I think we need to see half of those kids moved out of portables right away, and our goal needs to be to move all Surrey kids into real classrooms. But Christy Clark's plan is offset by expected growth in Surrey schools over the next three years, leaving today's 7,000 kids in portables right where they are. It's just not good enough for B.C.'s fastest-growing city."
Today, Horgan met with media at Katzie Elementary in Surrey, a school that just opened in 2014, but already has eight portables. Horgan says those portables are evidence of the B.C. Liberals' failure to provide stable, sustainable and adequate education funding, especially in growing communities like Surrey.
"I don't think Surrey kids and parents are getting their fair share from Christy Clark. Just this year, Surrey schools are expecting 1,000 new students, but the fields full of portables show just how badly the B.C. Liberals are failing to plan for that extraordinary growth," said Horgan.
Today, there are 274 portables in Surrey, and there are so many students learning in them, they would make up the 24th largest school district among the province's 60 districts.
"Since 2001, the B.C. Liberals have dragged public education funding in this province from the second best in Canada to the second worst. For kids in Surrey, that's meant overcrowded classrooms and learning in portables," said Horgan.
"Christy Clark thinks parents and kids should just accept that status quo. I think she's wrong. We need to build real classrooms, and we need a government willing to make that investment in our children's future."