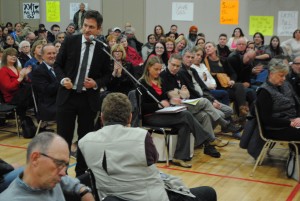 VICTORIA— Yesterday, the Christy Clark government showed again that they care more about bad headlines in the lead up to an election than they do about our public schools, say the New Democrats.
"After starving education funding for years, Christy Clark has finally woken up and realized that when schools are forced to close in rural communities where there are no other options for students, it has a devastating effect on families, communities and regional economies," said New Democrat education spokesperson Rob Fleming.
"What kids and parents in this province need is secure, stable and adequate funding for our schools. But the premier seems to think she can continue underinvesting in our school system with campaign announcements. Not only that, after her failed education budget tore communities apart, she seems to think that British Columbians will applaud her for it."
Fleming says more than 240 schools have closed on the B.C. Liberal watch, and many more are on the chopping block as the Christy Clark government continues to starve B.C.'s public education system, cutting budgets and downloading costs.
"I hope the people of Osoyoos, and so many other rural communities facing school closures, finally get the funding they need to save their schools," said Fleming.
Fleming says that the Christy Clark government has been callous and indifferent in their approach to communities like Osoyoos, where the only high school is slated to close.
"They have put parents and kids through incredible turmoil. Communities have spent bitter, divisive months mobilizing to save their schools. Now, after taking with two hands, Christy Clark is giving back a fraction of her cuts with one. She's rolling out haphazard funding announcements and hoping these communities will forget her government's shameful record on education that took B.C. from the second best funded education system in Canada to the second worst."