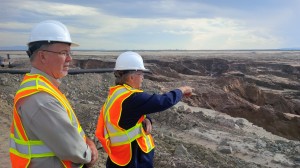 VICTORIA— Two years after promising to stand "shoulder to shoulder" with communities affected by the Mount Polley disaster the Christy Clark government has failed to address the disaster's impacts on the local economy and failed to hold the company accountable for polluting Quesnel Lake, says New Democrat Leader John Horgan.
"The people of Likely B.C. have been abandoned by the Christy Clark government in their time of need," said Horgan. "At a time when the Christy Clark government is making life less affordable for families across the province, people in the Likely community have seen their livelihoods slip away because of the B.C. Liberals' failure to properly address the Mount Polley disaster."
Earlier this year the Auditor General slammed the Christy Clark government for its weak oversight of the mining industry, and failure to properly monitor Mount Polley before the disaster.
New Democrat Energy and Mining spokesperson Doug Donaldson said "The Christy Clark government is undermining the mining industry with its failure to address the real consequences of the Mount Polley disaster on the people closest to it. Lax oversight and weak enforcement negatively impacts public confidence and is not the way to a strong mining industry in B.C."
After 25 million cubic metres of tailings and debris spilled into the formerly pristine, wild salmon supporting waters of Quesnel Lake there has been little in the way of consequences or accountability.
"I want to see social license for expanded mining in this province, but the Christy Clark government is undercutting public confidence and investor certainty," said Donaldson. "The only way we can get there is if First Nations and local communities have confidence that their environment and economy will be protected from harm."