When you contact our community office, my staff and I will do everything we can to assist. Since we're often out in the community, or helping community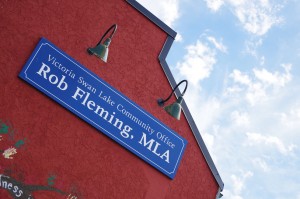 members, please make an appointment to make sure we have the time we need to assist you. To book an appointment, call 250-356-5013.
Here's a list of some of the free services our office offers:
Promotion –

We can help get the word out for your community events through our community partners, newsletter, website and social media.*

Recognition –

Has someone in our community has made a unique contribution or achieved something great? We will send a congratulatory message and certificate.

Advocacy –

We will work hard to help you solve any problems with provincial government departments, services or ministries.

Information –

Our office can find the right government contact or program. We can help you understand out how program changes will affect you, your family and your community.

Referral –

We know the services available in our community. We also know what grants are available to help fund community building services and projects. Just ask!

Get connected –

Our office offers free fax, phone and internet for government and community-related matters.
*Provincial government rules restrict the type of events we can host and promote, please ask us for details.
Local Community Centres
Burnside Gorge Community Association
471 Cecelia Road
Victoria, BC
V8T 4T4
Oaklands Community Centre
1 – 2827 Belmont Ave
Victoria, BC
V8R 4B2
(250) 370-9101
Quadra Village Community Centre
901 Kings Rd, Victoria, BC V8T 1W5
250-388-7696
Local Governments and Local Representatives
Mayor Marianne Alto and Councillors
UVSS – University of Victoria Students' Society
Camosun College Student Society
Find My MP – Federal Member of Parliament
Legal Rights
BC Civil Liberties Association
Community Legal Assistance Society (CLAS) BC
Tenancy
TAPS (Together Against Poverty Society)
TRAC (Tenant's Resource and Advisory Centre)
Residential Tenancies Information
Employment Resources
Applying for BC Employment and assistance
Current BC Government Job Postings
Health
Island Community Mental Health 
Medical Services Plan (MSP) information for BC residents
Mental Health 24-Hr Vancouver Island Crisis Hotline 1-888-494-3888
Crisis Line Association of BC 1-800-784-2433 (1-800- SUICIDE)
First Link Dementia Health Line
Mental Health and Substance Use